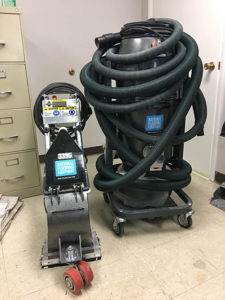 Mountain Valley Painting has you covered when you are looking for the best epoxy floor application. Many paining companies may tell you they can apply an epoxy floor, but not every epoxy floor application is done correctly.  For example, one step that some epoxy flooring companies may miss is that of preparing the floor properly before applying the epoxy.
If the floor is not prepared properly whether it a garage floor epoxy or a company shipping bay, the epoxy can flake off and crack over time.  In order to prepare the floor, the floor must be taken from a smooth state to one that is very rough and able to hold the epoxy over a long period of time.
To do this, Mountain Valley Painting has a system called shot blasting. This system uses very technical equipment that shoots small buckshot at a very high rate of speed a the concrete floor which will cause the floor to become very rough and porous. This preparation helps the floor hold the epoxy secure and will hold it longer so that your epoxy floor will last longer.
Don't let other epoxy flooring application companies apply the epoxy before the prepare the flooring to hold the epoxy properly.  Call the experts at Mountain Valley Painting for your epoxy floor installation.